When I think about what I wore versus what I wanted to wear in 2007, I'll think of the men I looked to for reliable inspiration and a dashing simplicity. All of these men exhibit a singular and defined personality in how they dress as well as embody the timeless trends of this past year--neutrals, slim cuts, and stripes. We can also hope that candy colored denim, Wayfrarers (I must admit I picked up a knock off pair at Old Navy over the summer), ethnic inspired scarves, and the Slim Slack at American Apparel will die a slow death before the next big thing in 2008.

In no particular order:


Mark Ronson, musician, dj, producer
Inspired by the lean lines of the Rat Pack, Ronson managed to make the mid-century lounge lizard look cool again without being too retro or costumey. This is the kind of look that necessitates a martini and Amy Winehouse playing in the background.
Lazaro Hernandez and Jack McCollough, fashion designers
A controversial choice indeed, due to the restrictive number that constitutes this list, but I think of Lazaro Hernandez and Jack McCollough as two complementary minds with one shared vision. I'm curious as to what a men's line would look like under the relaxed but effortlessly stylish eye of design duo behind Proenza Schouler. Their womenswear collections combine a soft and hard edge that's at once youthful and very of the moment but classic and clean. Essentially that's how they dress and I can't think of a better way of looking young and comfortable minus slovenly and unkempt.
Jack, played by Adam Goldberg in Julie Delpy's "2 Days in Paris"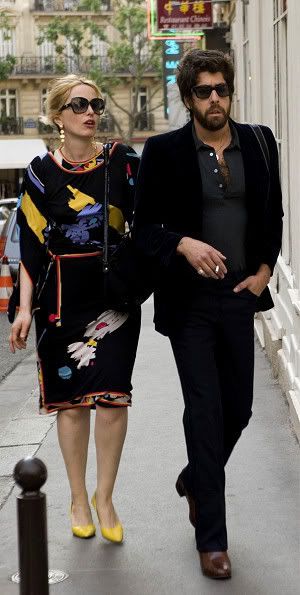 It's easy to slip into the tall white socks, cargo shorts, fannypack, and college t-shirt routine when traveling abroad but Jack brings an incredible black velvet blazer, sunglasses fit for Godard, and a hot French girlfriend. Adam Goldberg's character is ready for any occasion, whether it be a late night soiree or shopping at the market in the morning. His style is pragmatic but with a flair and wit.
Kanye West during Paris Fashion Week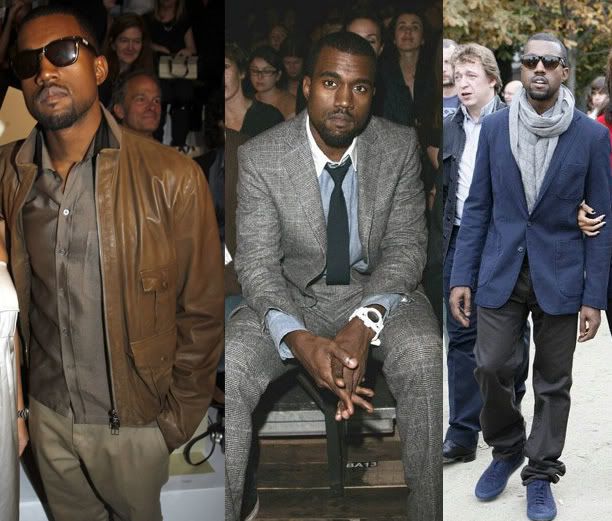 When in Paris and attending fashion shows ranging from Yves Saint Laurent to Vivienne Westwood, the standard is a little higher than an award show or television appearance. Gone are the distracting shades of day-glo, funky glasses, and Gucci backpacks from Kanye West's early sartorial repertoire during his many appearance during the collections. West's style has evolved leaps and bounds since his brazen debut into a more grown-up sensibility, favoring less flash over an overt and heavy-handed way of wearing luxury. Those navy Common Projects and tailored suit are remarkably modern and undeniably hip-hop.
Brad Pitt, parent, philanthropist, budding architect,
movie star extraordinaire
What to do when attending the most glamorous film festival in the world? Call Tom Ford and get him to costume design and tailor a tuxedo and daytime suit for you and nature will take its course. When he's not too busy adopting children, providing new homes for Katrina survivors, or making sensational movies, Brad Pitt makes such daringly perfect choices for his public appearances. Who else wears a scalloped vest with parted hair and not look like a Jay Gatsby rip off? Mr. Pitt, you are quite simply the man.
Honorable mention:
The cast of "The Darjeeling Limited"
George Clooney
Milo Ventimiglia
Worst dressed:
Tom Cruise
Gareth Pugh
Timbaland